Gender Neutral Reusable 24K Gold Collagen Mask
This mask is designed to reduce fine lines and wrinkles, helps stimulate collagen, has anti-bacterial properties, deep hydration and gives you that natural glow.
Why gold?
Gold, slows down the skin collagen depletion and elastin breakdown.
SHOP NOW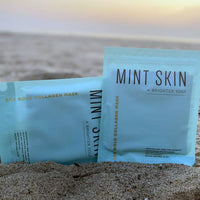 Mint Skin Founder and Medical Aesthetician
We are dedicated to teaching all skin enthusiasts about their skin needs.
Estefany Cespedes is a bi-coastal Licensed Esthetician working between both the greater Los Angeles and Miami area. Frequented by celebrities, skin care enthusiasts,  athletes, men, women, and notables alike. Estefany has over five years of experience in skincare with a degree in Science of Natural Health. The loyalty from her clientele attest to her authentic passion and innate talent for both, skincare and customer relations.