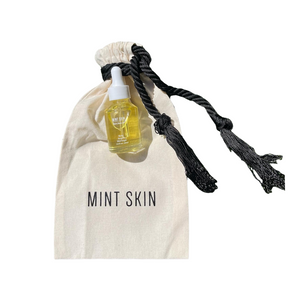 Mint Skin Rose Face Oil
Mint Skin
Regular price $35.00 $22.00 Sale
One of the most common uses of this face oil is as a moisturizer. Being a natural oil, it hydrates, softens and protects the skin. If you're worried about your skin feeling greasy, give it a go- you'll be amazed. It absorbs quickly and it's light enough to use as a daytime or overnight treatment.
Benefits: 
-Rose Oil has a variety of vitamins, minerals, and antioxidants due to which it has excellent moisturizing properties so necessary to combat dry skin. 
-Argan Oil is incredibly rich in Vitamin E, essential fatty acids, and proteins. Helps restore the appearance of texture and tone. 
-Moringa oil has antimicrobial, antibacterial, antioxidant, antifungal, and anti-aging properties. This face oil creates a clean barrier to lock in moisture, while nutrient-rich superfoods get to work rejuvenating the skin and giving your cells the resources they need to create a smooth, glowing complexion.
Ingredients:
Rose Oil, Organic Moringa Oil, and Organic Morrocan Argan Oil.
Mode of Application: 
Cleanse your skin to remove secretions and dead skin cells. After cleansing your skin, warm a few drops of the oil in the palms of your hands. At night time, in the winter months or in dryer climates, you may need to apply more drops for the added hydration and protection. Using circular motions, apply it to the face and neck. 

_________________________________________________________
Good for ALL skin types.